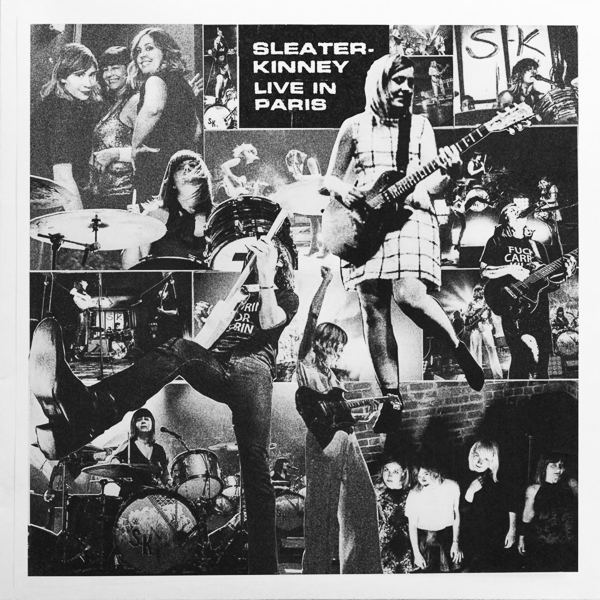 Unless you were lucky enough to have attended one of their shows before they went on an 'indefinite hiatus' for the best part of a decade from 2006, the only way you could experience the joys of Sleater-Kinney in live mode was via fan-made bootlegs that could be found floating around on file-sharing networks. That's all changed since their return in 2015 and the subsequent tour of their eighth studio album, No Cities to Love. Now there's no shortage of live footage available on YouTube. There are even some full shows, one in particular is a superb 23-song set captured by NPR Music featuring the three-piece playing at the famous 9:30 Club in Washington D.C. about a month after the release of their latest LP.
Given that it's the first live album of their 20-plus year career, Live In Paris has been a long time coming. Recorded on 20th March 2015 at the 19th century La Cigale theatre in front about over 1,000 fans during the opening months of the No Cities to Love tour, when it came to mixing their official live debut Sleater-Kinney turned to someone who knows their sound well. Having produced four of their eight studio albums, spanning from 1997's breakthrough Dig Me Out to their latest release, John Goodmanson not only knows the girls well but also knows the scene they came out of, having produced albums by other Pacific Northwest bands like Unwound and Bikini Kill.
The 13-track set, clocking in at just shy of the 50-minute mark, offers a great overview of their career thus far with 2005's The Woods and No Cities to Love dominating proceedings with four songs each. There's also room for a couple of tracks from Dig Me Out, with the only albums not represented being their 1995 self-titled debut and 2000's All Hands on the Bad One. Overall, there's potential room for a few more tracks to be included but the setlist will please almost any fan, with Live In Paris capturing Sleater-Kinney in superb form with a powerful and passionate performance.
Kicking the set off with 'Price Tag', a thunderous rant against consumer culture, it serves as the perfect introduction to the band's energy and politics. The taut guitar work and vocal interplay of Corin Tucker and Carrie Brownstein, coupled with the pounding drums of Janet Weiss, has seen them labelled "America's best rock band". A big statement but it's pretty hard to argue with when you hear them blast through tracks like 'Surface Envy' and 'Entertain'. It's a full-throttle performance, with other highlights including 'What's Mine Is Yours', 'A New Wave' and 'Dig Me Out', but they do show their softer side with sing-along set closer 'Modern Girl'.
While nothing quite beats attending a great concert in the flesh, 'Live In Paris' does a very good job of capturing the frenetic energy and passion of Sleater-Kinney at their near best. It may have been a longtime coming but their live debut should please old and new fans alike, serving as a great introduction to one of the finest rock bands around today.
Released: 27th January 2017
Length: 47:28
Label: Sub Pop
Genres: Punk/Indie Rock